December 2020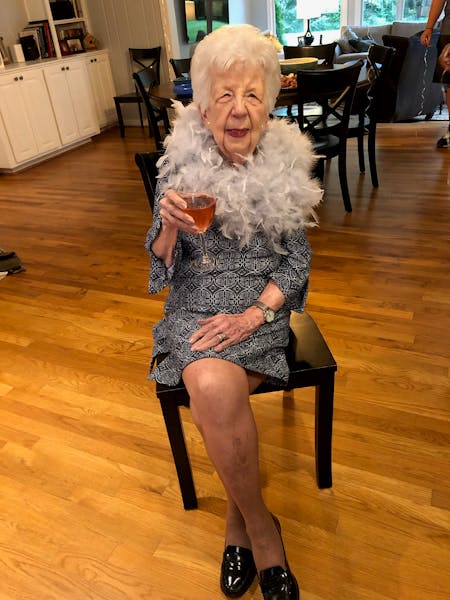 During the last few months, I know a lot of you have questioned the schedule at The Restaurant at Patowmack Farm. I owe an explanation, rumors have been flying around and yet this has been a very difficult and private time in my life. I have been caring for my mentor, my "I am enough," kind, grateful, patient, beautiful Mother during her transition to be with the Lord and back with my gentle Dad. I thought about what was important, visualized the course of action and knew I had to share my heart and soul with her during the months I had left with her. After all, she gave me life, gave me the tools I needed to find the right direction and taught me that whatever came my way, "it" would work out just fine. I stood on the hill, overlooking the Potomac River and wondered which path I should take. I chose to embrace the present, just be silent and aware of her needs. I was honored to watch her journey and share this with her. My mother passed away on Thanksgiving - so appropriate for her - a woman that was generous and thankful everyday of her life. She was strong, independent, caring, loved by many and always positive. She never shared a secret and was an incredible role model for my children. I, along with my siblings, my children, all of her grandchildren, great and great-great grandchildren will miss her immensely.
The cooler weather has arrived. We have been forced to differentiate ourselves and move forward in a positive way and embark on a new journey. Leaning forward, I have decided to change the focus of The Restaurant at Patowmack Farm as an opportunity to bring the earth-to-table culinary experience to you or your home. At this time we are currently booking holiday parties, corporate events and will be hosting Christmas Eve take out dinner, New Year's Eve, and New Year's Day and Valentine's Day. If you wish to book an event, please e-mail us at info@patowmackfarm.com to inquire about availability. We will be announcing our dinner schedule after the first of the year.
Please check Opentable for availability watch the website for updates.
Together, we will build and strengthen our relationships, embrace what Patowmack Farm has always offered, an earth-to-table culinary experience honoring where our food comes from promoting our cuisine as a bridge from the natural world to humanity and cultivating a sense of place within our ecosystem. Our focus will always embrace local ingredients, offering an exceptional experience while providing the finest culinary experience.
We practice all the guidelines the Virginia Department of Health and the CDC are recommending. Our staff has been trained in providing excellent and safe service. We ask that you also help us by wearing a face covering for your safety and the safety of others when entering, exiting, going to the restroom or walking around the property at our restaurant.
No one with a fever or symptoms of COVID-19, or known exposure to a COVID-19 case in the prior 14 days, is permitted in our restaurant.
We are eager to see you, celebrate you and look forward to the future. It is our continued privilege to welcome you to the restaurant and farm.
From all of us at the farm, our most sincere thanks for your continued support.